My hair is one area that I really try to keep looking great. It is not coarse or super fine, but somewhere right in the middle. I love having a great cut and a fabulous haircare system that really makes it look wonderful and I get that with the ENJOY hair care products. I am also thrilled when I have the chance to review another fabulous product line for them and today I want to share that with you.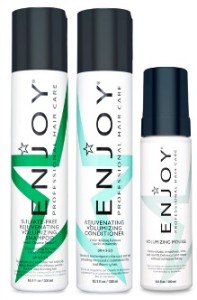 I received the
ENJOY Volumizing Hair Care System
which consists of:
* ENJOY Rejuvenating Volumizing Shampoo
* ENJOY Rejuvenating Volumizing Conditioner
* ENJOY Volumizing Mousse
Here is a bit about each product.
ENJOY Rejuvenating Volumizing Shampoo
works hard to revitalize and rejuvenate your hair and scalp. Excellent with fine or thinning hair, it cleans thoroughly without the build up and is color safe for all hair types. Like all ENJOY products, it's proudly sulfate-free.
ENJOY Rejuvenating Volumizing Conditioner
. contains special thickening ingredients and vitamins within that will give hair a thicker, fuller feel. Stimulating botanicals and oils provide increased circulation to help rejuvenate and revitalize the scalp, creating a healthier environment for thin or thinning hair.
ENJOY Volumizing Mousse
creates volume, smoothness, shine and root lift. This highly concentrated styling foam defines curl and texture without flaking or build up.
I used the shampoo first and this shampoo really nice and thick! It is a pretty green color and just a small amount will be sufficient so your dollar will really go a long with with this product. The shampoo has a great lather and my hair felt nice and clean after washing. Styling it was easy since there was no limp hair from too much moisture. Plus my hair is noticeably fuller looking and has a thicker feeling to it.
I only use conditioners about once a month, after I highlight my hair, so this was a perfect time to try out this ENJOY Rejuvenating Volumizing Conditioner. I like that you just need a small amount to get the results you need as this too is super thick; so another money saver. A big plus for me was that this conditioner did not weigh down my hair. Some conditioners are super waxy and they leave my hair looking and feeling limp and lifeless. This gave a nice smooth feeling to my hair but no dull limp mess that makes me want to wash my hair 5 more times. That is a huge bonus for my hair!
When it comes to styling my hair, I am so simple. I let my haircut dictate how the style comes out so this ENJOY Volumizing Mousse is a great addition to my morning ritual! It is super powerful so only a small amount is needed. I love to use a mousse because it really can give you so much control over your hair whether you like it spiky or poofy or even flat so it lays down.
The ENJOY mousse is a wonderful product! I get tons of volume and lasting stay with this. I love that it is not flaky and it does not dry out my hair either.
Overall, the ENJOY Volumizing Line has become a huge favorite of mine! My hair looks and feel great and that is what it is all about! If you want to buy ENJOY products, you can check them all out at their site www.enjoyhaircare.com where you can find a salon locator.
Disclaimer: Chris Carroll has personally reviewed the product listed above. She has not received any monetary compensation for her review but did receive a free product to try out so she could evaluate and use it for her review. Her thoughts & opinions in this review are unbiased & honest and your opinions may differ.